BVA Congress reveals 2019 programme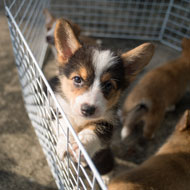 Experts to discuss anti-vax movement and puppy-farming
Some the veterinary profession's biggest challenges and most talked about issues are set to go under the spotlight at this year's BVA Congress (14-15 November).

A highlight of the London Vet Show, the event will include sessions on sustainability, the rise of 'anti-vaxxers' and diversity in the workplace. It will also include a thought-provoking discussion on EMS and whether the current system is truly sustainable.

Launching the programme, BVA President Simon Doherty said: "This year's BVA Congress will provide a platform for delegates to come together to lift the lid and debate issues such as sustainability within the profession, pet obesity, diversity within the profession, anti-vax attitudes, and EMS.

"It's an opportunity for vets of all career stages to take time out of clinical CPD and sink their teeth into wider issues that we all feel passionately about."

The full programme for BVA Congress includes sessions on the ethics of large-scale puppy farming in association with the AWF, the future of the veterinary nurse with the BVNA and pet obesity with Mars Petcare.

Dr Temple Grandin, Professor of Animal Science at Colorado State University, will deliver the highly-anticipated Wooldridge Memorial Lecture in which she will give 'a unique insight' into the minds of animals. Dr Grandin is a pioneering animal scientist, best-selling author and autism spokesperson named by Time Magazine as one of the 100 most influential people in the world.

For more information about the event visit london.vetshow.com. BVA members can get access to the full BVA programme, as well as the usual London Vet Show programme, for 15 per cent less than the lowest advertised price.