Landmark report sheds light on discrimination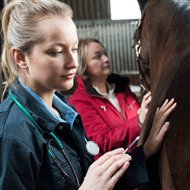 BVA launches 'Big Conversation' after "truly shocking" findings

Nearly a quarter of vets and vet students have experienced or witnessed discrimination in the past year, according to a landmark report by the BVA.

Figures show 16 per cent of vets and vet students surveyed had personally experienced discrimination within a veterinary workplace or learning environment in the past 12 months.

Despite this, only 56 per cent of respondents said they were concerned about discrimination.

Senior colleagues were most commonly responsible for the discrimination, accounting for nearly half of all incidents (47 per cent), while clients accounted for 35 per cent of incidents.

Worryingly, only 12 per cent of respondents were satisfied with how their incident had been handled, which rose to 23 per cent among those who felt able to report the incident.

Sex discrimination was the most common type reported (44 per cent of incidents) and was found to be particularly prevalent in academic settings and production animal, equine and mixed practices.
Race discrimination was the second most commonly reported, accounting for 27 per cent of incidents. Survey participants also reported discrimination relating to age, sexuality, disability and gender reassignment.

Younger vets were more likely to have experienced discrimination than older vets - 27 per cent of those under 35 had experienced discrimination. Female vets were more than twice as likely to experience discrimination than their male colleagues - 19 per cent and eight per cent respectively.

The prevalence of discrimination was also higher among vets from minority ethnic backgrounds, and those who described their sexual orientation as bi, gay or lesbian were more than twice as likely to have experienced discrimination.
'Big Conversation'
BVA's junior vice-president Daniella Dos Santos called the findings "truly shocking".

She added: "It is completely unacceptable that so many members of the veterinary team are subject to discrimination not just from clients but from members of our own profession.

"Worryingly, it seems that the scale of the issue will come as a surprise to many members of our profession and so it is vital that we all join the conversation and reflect on what role we can play to improve equality and inclusion.
"The veterinary team must become a safe and supportive environment for everyone. We cannot accept anything less for ourselves, for our colleagues and for our profession."

The BVA is asking all members of the profession to get involved in its 'Big Conversation' on equality and inclusion, which is launching this week. Veterinary teams across the UK will be able to join online engagement sessions and BVA members are being asked to share their views with regional representatives ahead of a council meeting on 24 July.