Badgers top the mammal roadkill list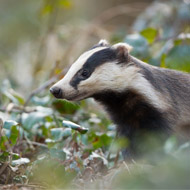 Project sheds light on most at-risk animals
Badgers are the most commonly reported victim of roadkill, with more than 900 killed so far this year, new figures show.

Nearly twice as many badgers were reported killed, compared to foxes and hedgehogs, which were next on the list.

The mammal roadkill list was compiled by Project Splatter, a citizen science project led by Cardiff University. So far this year the project has received more than 5,500 reports of roadkill from members of the public.

More unusual reports were a beaver on the A9 and a wallaby near Oxford, both of which were seen in April.

Figures show the top three birds and mammals killed so far this year were:

Birds:
1. Pheasant - 1347
2. Woodpigeon - 156
3. Blackbird - 93

Mammals:
1. Badger - 905
2. Fox - 475
3. Hedgehog - 453

Members of the public can visit the project's website to find out how to get involved with reporting roadkill.