Bill to increase jail time for animal abusers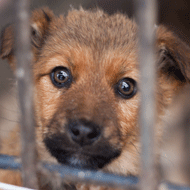 Offenders could face up to five years in jail under proposed legislation
A new bill to increase maximum jail sentences for animal cruelty will be introduced to parliament today (26 June).

Under the Animal Welfare (Sentencing) Bill, animal abusers could face up to five years in prison. Currently, the maximum sentence courts can impose is six months.

Environment secretary Michael Gove first revealed plans to strengthen the legislation in September 2017 and the government has come under increasing pressure in recent months to deliver the bill. Yesterday, representatives from 11 charities visited No 10 Downing Street to urge the government to stand by its promise.

Announcing the new bill today, Mr Gove said: "There is no place in this country for animal cruelty. That is why I want to make sure that those who abuse animals are met with the full force of the law. Our new Bill sends a clear message that this behaviour will not be tolerated, with the maximum five-year sentence one of the toughest punishments in Europe.

"I am committed to making our country the best place in the world for the care and protection of animals."

Last year the RSPCA received over 1.1 million calls to its 24-hour cruelty hotline, with a call every 27 seconds on average. There have also been a number of cases where courts have said they would have handed down longer jail sentences if they had been available.

Animal welfare charities have welcomed the new bill. RSPCA chief executive Chris Sherwood said that under current legislation, even if the maximum sentence of six months is imposed, offenders often serve just a few weeks.

"It's a sad reality that, in England, you could face a longer prison sentence for fly tipping than for brutally beating an animal to death," he added. "We need to better protect our animals and the RSPCA hopes that this new Animal Welfare (Sentencing) Bill will give courts the powers they need to punish those responsible for the most unimaginable cruelty to innocent, defenceless animals."

Claire Horton, chief executive of Battersea Dogs & Cats Home, described the introduced of the bill as a "landmark achievement".

She said: "We, and many other rescue centres, see shocking cases of cruelty and neglect come through our gates and there are many more animals that are dumped and don't even make it off the streets. Research shows that tougher prison sentences act as a deterrent to would-be criminals, so today's announcement should prevent the suffering of many animals in the future."

The bill will be introduced to the House of Commons, before moving through the House of Lords. If passed, it will come into effect two months after receiving Royal Assent.