Scientists explain 'puppy dog eyes'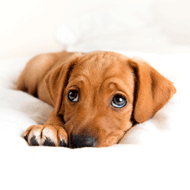 Rapid evolution results in extra muscles around eyes
Dogs have evolved to have new muscles around their eyes to help them communicate better with humans, new research shows.

Led by the University of Portsmouth, a team of UK and US experts compared the anatomy and behaviour of dogs and wolves.

Findings published in PNAS suggest that the facial musculature of both species are similar, except for above the eyes.

A small muscle, which is absent in the wolf, allows dogs to intensely raise their inner eyebrow. This inner eyebrow raising - dubbed the AU101 movement - triggers a nurturing response in humans. It makes the dog's eyes appear larger, giving them a more 'baby-like' look, and is also similar to a human facial expression that indicates sadness.

During the study, dogs and wolves were exposed to humans for two minutes, during which the dogs raised their inner eyebrow more and at higher intensities than wolves. Previous research also found that dogs moved their eyebrows significantly more when humans were looking at them.

Lead anatomist Professor Anne Burrows, from Duquesne University, remarked that the evolution of these new muscles happened "remarkably fast".

It is thought this can be directly linked to dogs' enhanced social interaction with humans. Researchers believe the muscles could be the result of humans' unconscious preferences influencing selection during domestication.

The AU101 movement elicits a caring response from humans, giving dogs that move their eyebrows more a selective advantage over others, which would reinforce the trait for the future.