Staffies top the list of stolen pets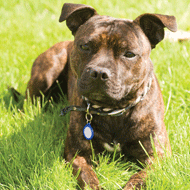 Figures show nearly 2,000 pets reported stolen last year
Staffordshire bull terriers are the most commonly stolen pets, according to data acquired by the Dogs Trust through a freedom of information request.

Figures show nearly 2,000 dogs were reported stolen last year, over 1,000 of which were stolen from homes and gardens.

After Staffies, the most commonly stolen breeds were Chihuahuas, French bulldogs, Jack Russells and pugs.

The Dogs Trust is urging pet owners to check the access points to their homes and gardens, including looking for gaps in the fence and other property boundaries.

Microchips should also be kept up to date and dogs neutered to make them less likely to wander, and less desirable to thieves looking to breed from them.

Dogs Trust has teamed up with security company Yale UK, who will be offering advice to dog owners at some of the charity's annual fun days.

Stephen Roberts, of Yale UK, commented: "Back gardens are commonly targeted by burglars so it's essential to ensure gates and any access areas are locked and ideally monitored remotely. This helps to keep your garden secure, along with your beloved pets. Dogs are a member of the family, so it's just as important to look after them, as it is to protect the house."

Other steps that can be taken include keeping garden gates locked with a padlock and hasp, along with smart alarms and cameras as a deterrent. Indoor smart security cameras allow dog owners to keep an eye on pets via an app while they are away from the home.