Love Island star praised for raising awareness of BOAS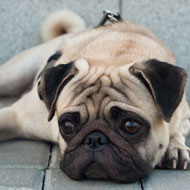 Olivia Bowen Buckland has urged people to do their research
The British Veterinary Association (BVA) has praised reality television star Olivia Bowen Buckland for raising awareness of Brachycephalic Obstructive Airway Syndrome (BOAS) in dogs.

In a Twitter post, the 2016 Love Island contestant urged people to do their research before getting a bulldog or pug. Her Tweet came after her French bulldog Reggie underwent surgery to help him breathe more easily.

"I'm so shocked at how many bulldog/pug owners don't know anything about the breed they own or in particular BOAS. It actually baffles me," she told her 519,000 followers. "We knew this day may come Reggie & we knew what it may cost. Brachycephalic breeds are not easy. Educate."

The internet celebrity also shared some advice for prospective dog owners:

"I truly truly recommend 100% researching as many breeds as you can to find the perfect one for your lifestyle & family & home. I get so upset seeing the amount of difficult breeds being given up when a little bit of research could of raised alarm bells."

BVA junior vice president Daniella dos Santos said: "Celebrity influence has played a huge role in explosion in popularity of flat-faced dogs, so it is welcome to see a reality TV star with millions of social media followers start a conversation around the serious health issues many of these breeds suffer from.

"Responsible pet ownership begins even before getting a pet, which is why it is commendable that Mrs Bowen Buckland has asked her fans to always do their research first."

She added: "We hope that Mrs Bowen Buckland's example will inspire more celebrity owners of pets with breed-related health and welfare issues to speak out."

BVA's Summer 2017 Voice of the veterinary Profession Survey found almost half of vets believed their clients who chose brachycephalic dogs were influenced by social media (49%) or their favourite celebrities (43%). But celebrity brachycephalic dog owners, such as Zoe Sugg, David Beckham and Lady Gaga, are often unaware of the health issues faced by these breeds.

More than half of the brachycephalic dogs seen by vets in Summer 2017 (56%) required treatment for skin problems, breathing difficulties, dental issues or eye ulcers. However, vets reported that just 10 per cent of brachycephalic dog owners could recognise their dog's breed-related health issues.

A further 75 per cent were unaware of these problems before deciding on the breed.