Gull dies after becoming trapped in netting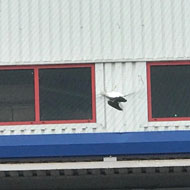 Incident a "reminder" to monitor bird deterrents

A gull has died in Cardiff after getting stuck in bird-deterrent netting.

RSPCA Cymru was contacted after the gull was seen trapped in netting attached to the Royal Mail's Cardiff Mail Centre earlier this month.

The charity enlisted the support of firefighters to rescue the bird, which was trapped around 18ft in the air. But sadly he was found to be badly cut, with sores to his wings, and had to be euthanised.

The RSPCA said the incident is a sad reminder about the importance of maintaining and monitoring deterrence netting to protect birds. If netting is not checked and maintained then birds are at risk of dying from injury or starvation.
"Sadly, netting on buildings can be fatal for wild birds, who can easily become trapped," commented RSPCA animal collection officer Fiona Thomas. "This gull became trapped on this Penarth Road building, and when rescued was found to be so badly injured that – on welfare grounds – he sadly had to be put to sleep.

"We feel this incident is another reminder about how important it is to monitor bird deterrent wire or netting on buildings, which can pose a troublesome obstacle for Wales' wild birds."

She continued: "There are some circumstances where netting can be an effective means of keeping birds off structures as it can prevent problems without needing to resort to other measures such as killing birds. However, it's vitally important that any netting is properly installed and maintained.

"The RSPCA is exceptionally grateful to firefighters from the South Wales Fire Rescue Service, who helped us come to the gull's aid and at least prevent further suffering."
Image (C) RSPCA.