RCVS and BVA welcome call to add vets to Shortage Occupation List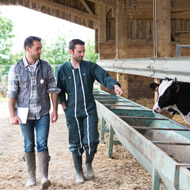 Recommendation dubbed "a huge win for animal welfare"
The RCVS and the BVA have welcomed a recommendation by the Government's Migration Advisory Committee (MAC) to add veterinary surgeons to the Shortage Occupation List (SOL).

Professions on the SOL are given priority for visas required to live and work in the UK. Moreover, employers wishing to hire professionals on the list are not required to complete the Resident Labour Market Test. This means they would not have to advertise vacancies locally before offering the role to somebody overseas.

Last year, the RCVS and the BVA made a submission to the MAC raising concerns about how an already-stretched veterinary workforce would cope with an increased need for some services after Brexit. It stressed that demand in areas such as export certification would likely increase and that fewer veterinary surgeons from the European Union will be joining the register.

The Submission also reiterated the importance of veterinary surgeons in areas such as disease surveillance, public health and food safety, amongst many others.

Welcoming the MAC's response, RCVS President Amanda Boag said: "We are very pleased to see that our submission, made with our colleagues at the BVA, has been welcomed by the Committee and that this recommendation will now be going to the key decision-makers at the Home Office for consideration. While we are still unaware of how the process of the UK leaving the EU will pan out, this is a very important step in ensuring the future security of the profession and mitigating against worsening workforce shortages.

"We would reiterate to the Government that the UK is currently reliant on overseas registrants to meet the demand for veterinary surgeons, with veterinary surgeons from the rest of the EU making up around 50 per cent of new registrants each year. By adding veterinary surgeons to the Shortage Occupation List, and therefore reducing the immigration requirements needed to live and work in the UK, the Government will be helping ensure vital veterinary work continues to be done particularly in areas such as food safety and public health."

The BVA dubbed the MAC's response as a "huge win for animal welfare and a resounding vote of confidence in the veterinary community."

Simon Doherty, BVA President, said: "We are absolutely delighted that the committee has heeded our calls and recognised the need to reinstate vets on the list to keep workforce supply and resilience high in the unpredictable times ahead.

"Working with our members and stakeholders, BVA has run a concerted campaign to restore vets on the list, and we are delighted that these efforts have paid off. While this is a very welcome boost, the profession itself is also doing a huge amount of work to understand and address recruitment and retention challenges both now and into the future."