Men challenge gender stereotypes with #CatMenDo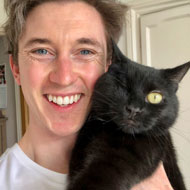 Proud 'cat dads' are sharing photos of their moggies online

Cat owners across the UK are flocking to social media to celebrate the bond between man and moggie.

The hashtag #CatMenDo has been growing in popularity, with politicians, comedians and vets using it to break the stereotype that 'dogs are a man's best friend'.

It comes after a survey by Cats Protection found that men who like dogs are still being seen as more masculine than those who like cats.

The survey asked 2,000 men to assign attributes to a man in two photographs - one with a cat and one with a dog. It revealed that men with dogs are likely to be seen as more masculine, while men with cats are likely to be seen as more sensitive.

Welsh Labour MP Huw Irranca-Davies tweeted: 'As part of the #CatDads #CatMenDo campaign by @CatsProtection I tried early this morning to get a picture with one of the two rescue cats who've moved in with us. However, one is out doing cat things, and the other is snoozing on my rucksack as do emails. So here is lazy Smudge.'

TV vet Dr James Greenwood posted on Instagram: 'I'm loving the #CatMenDo campaign that @CatsProtection are doing. Cat ownership is often wrongly seen as a predominantly female "thing" so they're calling on us fellas to disprove this by sharing pics of our kitties. Let's do this! And don't forget the hashtag.'

Comedian Jake Lambert has also lent his support to the campaign, saying: "I think things are starting to change and more and more men are proud to be cat dads. I feel so lucky to have my one-eyed cat Richard Parker and hope he feels the same. Cats are very independent and know to clean themselves regularly, so if anything I think most men could learn a thing or two from cats."

Cats Protection said that it will be creating videos out of all of the photos it receives in a bid to show that you don't have to be a 'crazy cat lady' to have an affinity with moggies.

Cats Protection's chief executive James Yeates explained: "Gender stereotypes like this have endured for years and, while there's been a recent rise in male cat ownership, cats are still much more likely to be owned by women. We'd really like to see this gender barrier broken down and a lot more cat dads in the future."

More information about the campaign can be found on the Cats Protection website.
Image (C) Cats Protection.