Oral vaccines could help curb rabies spread - study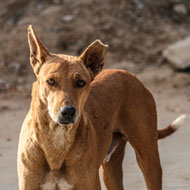 Three times as many dogs can be vaccinated each day

An oral rabies vaccine could provide a more efficient and cost-effective method of rabies control in countries with large stray dog populations, according to new research.

Writing in the journal Vaccine X, researchers assessed the effectiveness of oral vaccinations on dogs in Goa, India. Teams on mopeds searched for free-roaming dogs and delivered empty capsules hidden inside dog food.

The team found that three times as many dogs could be vaccinated each day when oral vaccination is combined with the current method. Each day, the team managed to reach 35 dogs, compared to just nine using the catch-vaccinate-release technique.

The study was conducted by experts from Mission Rabies, the Worldwide Veterinary Service and the University of Edinburgh.

Some 59,000 people die annually from rabies and a further 29 million require costly treatment after being by bitten by dogs in countries where the disease is rife.
Researchers hope the study will help support the introduction of the oral rabies vaccination in India as an additional tool to eradicate the disease.

Mission Rabies founder Dr Luke Gamble, said: "Rabies has a massive impact on societies, not only from the disease but also from the fear that results. In many parts of the world, reaction to rabies cases fuels inhumane mass culls of dogs, which does nothing to combat the virus. We are showing that there is another way that benefits dogs, people and nations."

Professor Mark Bronsvoort, of the University of Edinburgh's Roslin Institute, said: "This kind of operational research is crucial in pushing the boundaries and finding a solution to the age-old problem of rabies. Dog populations vary, so it is essential that methods are evaluated methodically. We are excited that this approach could have far-reaching benefits."