Dogs can detect imminent epileptic seizures - study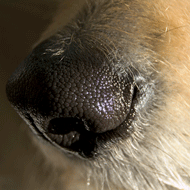 All study dogs were able to distinguish odours associated with seizures
A new study has provided the first evidence that epileptic seizures are associated with specific body odours, which dogs can be trained to identify.

Whilst various studies have shown that diseases including breast or lung cancer are associated with certain odours, no study has yet looked at epileptic seizures, perhaps owing to the large number of seizure types.

Researchers from the University of Rennes presented breath and sweat samples collected from five patients with different types of epilepsy. Samples were collected from patients during a seizure, a calm period and a sports session, then presented to five neutered dogs from Medical Mutts, a non-profit organisation based in the US.

The dogs were trained to approach and stand above the can containing the target odour. In each trial, only one out of the seven cans contained a seizure odour.

According to results published in Scientific Reports, all dogs succeeded in selecting the correct can. Three out of five dogs had 100 per cent specificity and sensitivity, while two out of five had 67 per cent sensitivity and 95 per cent specificity.

Researchers said the sensitivity and specificity shown during this research is among the highest so far for the detection of diseases.

The authors wrote: '…these dogs were clearly able to discriminate the seizure odours from odours of the same patient outside seizures and for all patients tested. From the first trial on, they responded to the "right" odour and explored it longer than any of the other odours. This clearly demonstrates for the first time that there is indeed a seizure-specific odour across individuals and types of seizures.'

Scientists said the study has opened up new lines of research; and future work should include a larger number of dogs and patients.