Spike in pet owners seeking travel guidance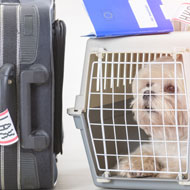 Brexit uncertainty fuelling frustration and anxiety among pet owners
The uncertainty surrounding Brexit has led to a huge rise in pet owners visiting their vet for advice on travel, according to the BVA.

Figures from the BVA's Voice of the Veterinary Profession Survey reveal more than 8 in 10 companion animal vets (85 per cent) have been approached about pet travel, with many owners expressing anger or frustration.

Some 74 per cent of vets reported seeing a rise in enquiries since November, with 40 per cent describing a significant spike. Vets said they had owners directing anger towards them over the uncertainty, additional testing requirements and longer wait times.

Around half (48 per cent) of vets said that could respond to most of the questions about pet travel. However, many felt unable to answer some queries owing to the current uncertainty over Brexit timeframes and what form it will take.

The survey also revealed that clients who need to travel regularly are feeling especially inconvenienced. This includes dog show or Canicross participants, those with holiday homes abroad, and people travelling from Northern Ireland to the Republic of Ireland.

Vets reported that while some people are getting rabies serology tests done now to prepare for all eventualities, many are adopting a 'wait and see' approach to avoid the additional costs and steps involved.

BVA president Simon Doherty said: "It is understandable that the ongoing uncertainty around Brexit and expected changes to the pet travel requirements are stoking anxiety and frustration among pet owners and prompting a lot of questions.

"We also remain sensitive to the particular lack of clarity over the movement of pets between Northern Ireland and the Republic of Ireland.

"We would reiterate our advice to pet owners to discuss any summer travel plans with their vet now to avoid disappointment and ensure that all the tests and checks required in the event of a no-deal situation have been completed in good time.

"Leaving the EU with no agreement in place could lead to owners facing longer waits to get their pet cleared for travel and higher costs for the required vaccination, treatments and health certificates each time they leave the UK."

For guidance on pet travel after Brexit visit the BVA and government websites.