RCVS names Mandisa Greene as new junior vice-president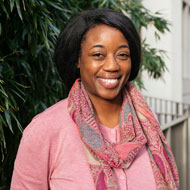 Ms Greene hopes to inspire young people from minority ethnic backgrounds

The RCVS has appointed veterinary surgeon Mandisa Greene as junior-vice president for 2019-20 and confirmed Dr Niall Connell as president for the same year.

Ms Greene was elected at a meeting of RCVS Council on Thursday (7 March), where a number of other appointments were also confirmed. These include Dr Niall Connell as President, and Dr Christopher (Kit) Sturgess as RCVS Treasurer.

Ms Greene was born in the UK and raised in Trinidad and Tobago in the West Indies from the age of two.

When she was 18, she returned to the UK to study for a BSc in Biological and Medicinal Chemistry at the University of Exeter. She later gained her veterinary degree from the Royal (Dick) School of Veterinary Studies at the University of Edinburgh in 2008.

Mandisa's interests lie in small animal practice and emergency and critical care. She currently practices in Newcastle-under-Lyme and is a published author, having contributed to a paper about genomic variations in Mycobacterium published in BMC Microbiology.

Commenting on her appointment, she spoke about the importance of diversity and inclusion both within the veterinary profession and wider society.

"It was only when I returned to the UK that being a veterinary surgeon from an ethnic minority was seen as unusual and I realised that young people from minority ethnic backgrounds might not consider a veterinary career as a result. However, I am a strong believer in 'if you see it, you can be it' and so I hope that, with my election, if young people from those backgrounds can see that there are people like them working as veterinary professionals, then it might open it up as an option for them.

"I am also concerned about diversity more broadly, including making the veterinary professions more open to people with disabilities, looking at socio-economic and class backgrounds and also the situation of our European colleagues, some of whom I know have suffered abuse over the last few years and may feel uncertain about their future in the UK.

She continued: "Whilst my background may be unique, I would say my experiences as a small animal practitioner who has a young family and wears many other hats underscores the commonalities amongst us, so I am also interested in issues such as practitioner wellbeing, work-life balance, out-of-hours work and practice standards."

Ms Greene was first elected to Council in 2014 and was re-elected last year. She is currently chair of the Practice Standards Group and a member of the Primary Qualifications Subcommittee and the Legislation Working Party.

Mandisa has also served on Standards Committee and chaired the extra-mural studies Coordinators liaison group.
Image (C) RCVS.