Charity reports rise in online pets coming through its doors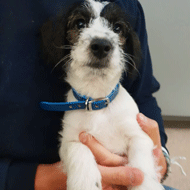 Public urged to do research and consider adopting a pet instead

Battersea Dogs and Cats Home is urging the public not to impulse buy pets, after revealing that it took in more than 400 dogs that were bought online last year.

In total, the charity took in 404 dogs that were originally bought online in 2018 - up from 355 in 2017. Whilst some of these were much-loved pets, others were brought to the charity after their owners bought them on a whim, before realising they could not care for them properly.

One example is 12-week-old Truffle, who was taken to Battersea in December last year after his owner saw an internet advert and met the seller at a train station. His new owner quickly realised she had underestimated what having a puppy would entail and found she could did not have the time to look after him.

Although the online ad promised that Truffle was microchipped and vaccinated, Battersea vets soon discovered this was not the case. They strongly suspected he had come from a puppy farm. Truffle has since been rehomed with a new family.

The charity is urging people to do their research before buying a pet to avoid fuelling backstreet breeders, or to consider adopting instead.

Battersea's centre manager Steve Craddock said: "You can now buy an animal in seconds and it's very tempting to be sucked in by the cute photos.
"Online pet sales have become a huge industry and research shows that a new dog advert is created online every two minutes, while a cat advert goes up every four minutes. Sadly, the reality can be very different from the pictures and it's difficult to know if the animal you're getting will match up to the advertisement.

"It's animal rescue centres that then pick up the pieces and so we're asking people to, please, think before you click and remember that a pet is a huge responsibility. Better yet, consider coming into Battersea and adopting one of the many dogs here looking for a home.
"All our animals have had thorough medical or behavioural assessments, so you'll know exactly what you're getting."
Image © Battersea Dogs and Cats Home