First large-scale study of diabetic alert dogs published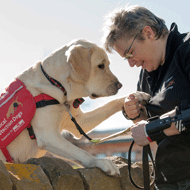 Detection dogs can 'significantly improve' quality of life for diabetic owners
Specially trained alert dogs can detect 83 per cent of hypoglycaemic episodes in patients with diabetes, according to new research.

In the first large-scale study of its kind, researchers from the University of Bristol and the charity Medical Detection Dogs found that alert dogs have the potential to significantly improve quality of life for people with type 1 diabetes.

The team studied 27 trained glycaemia alert dogs, whose owners supplied six to 12 weeks' worth of blood records – equating to more than 4,000 hypo- and hyper-glycaemic episodes – detailing each time the dog alerted.

Commenting on the results, which were published in PLOS ONE, Dr Nicola Rooney said: "Our research shows a dog's effectiveness is affected by the individual dog and its connection with its human partner.

"Since the usage of such dogs is growing, it's important that any dogs used for these purposes are professionally trained, matched and monitored by professional organisations like Medical Detection Dogs. It's also vital that research continues both to assess true efficacy and determine ways to optimise their performance."

Medical Detection Dogs trains pet dogs to show alerting behaviours in response to the odour produced by human disease. In diabetic patients, dogs will alert when their owners' blood sugar level falls too low, allowing them to take the appropriate action.
Image © Trevor Martin