Results of UK's first major neutering audit revealed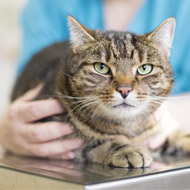 Over 30,000 neutering cases produces benchmark for the veterinary profession
A major audit of the routine neutering of cats and dogs across UK veterinary practices has been completed. Veterinary practices will now be able to measure their performance against the national average.

VetAUDIT, originally an independent project now under RCVS Knowledge, has revealed the following key data points:


over three-quarters of cases presented with no abnormalities
between 8.2 per cent and 9.1 per cent of cases required medical treatment or surgical intervention due to abnormalities
approximately one in ten cases were deemed abnormal but did not require further treatment
the fatality rate of all cases was 0.1 per cent
neutering in cats produced less abnormalities than in dogs and bitches
spays resulted in more complications than castrates in both cats and dogs.

"Benchmarking is a great way to compare how your practice is performing compared to the national average" explains Bradley Viner, chair of the Quality Improvement Advisory Board at RCVS Knowledge and part of the vetAUDIT team.

However, Viner added the caveat that the data "needs to be the first stage in a quality improvement process… We have to recognise that we work in complex systems that do not always function perfectly. Recognising that we can always do things better and discouraging defensive behaviour are the first steps in driving forward quality of care".

Practices can read the full results and include their own data in the audit with free-of-charge analysis at https://vetaudit.rcvsk.org