Calls to tackle puppy smuggling before Brexit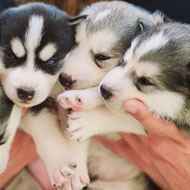 Latest report confirms widespread abuse of pet travel laws

The Dogs Trust is calling for urgent action to tackle puppy smuggling before Brexit, after a recent undercover investigation confirmed the scale of the problem.

According to the charity's latest report, a network of corrupt breeders, dealers and vets openly admit to breaking the law to export puppies.

Sedated puppies were found hidden in their own faeces in cramped conditions, forced to travel over 1,000 miles in 30 hours with little water and no toilet breaks. Heavily pregnant bitches were also caged in 'sickening' conditions for gruelling journeys, so that their puppies can be born in the UK.

One dealer said they had 300 bitches producing 'designer' puppies such as French bulldogs, some of which were then advertised and sold in the UK. Another dealer who claimed to evade border controls across Europe, said around 400 puppies a week - or 20,000 a year - are exported from his hometown and sold for an average price of £1,400.

The Dogs Trust said corrupt vets were also found to be falsifying passports and providing fake vaccination stamps. This allows puppies to travel when they are younger than the law allows, without rabies and other vaccinations. Some vets were also willing to supply sedatives to bring puppies across the UK border undetected, the report says.

New trade routes from Serbia were discovered. Evidence suggests underage puppies are being sold with EU microchips and pre-filled European passports, to be passed off as EU-bred animals for easier entry into EU countries.

Dogs Trust veterinary director Paula Boyden said: "With Brexit around the corner this is an opportunity of a lifetime to put robust measures in place that protect dogs and the public.
"We urge the government to take forward our clear recommendations to overhaul our pet travel legislation and increase the penalties for those caught fuelling this despicable trade."
The charity is urging people to write to their local MP asking them to take steps to end puppy smuggling.