MicroRNAs could predict future health of cattle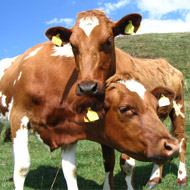 Discovery has the potential to decrease animal suffering

MicroRNA levels in the blood could be used to predict the future health and productivity of dairy cattle, according to new research.

MicroRNAs are a class of small molecules that play an important regulatory role in plants and animals. MicroRNA levels can be quantified in the blood using standard laboratory procedures and used to analyse changes in the function of specific body tissues.

A study by The Roslin Institute and Scotland's Rural College found that the blood levels of certain microRNAs change dramatically during a cow's early life. It also revealed that some microRNAs are closely associated with the incidence of diseases such as lameness and mastitis, as well as milk production in mature cows.
Up to a third of cows in UK dairy herds are thought to be affected by disease and reproductive failure and need to be removed before the end of their productive life. Not only does this incur signifiant cost to farmers, but it also gives rise to serous animal welfare issues.

Researchers say a procedure that can predict the future health of cattle would be highly beneficial for the dairy industry, and also has the potential to significantly decrease animal suffering.

"As we have already shown in previous studies, these results show that microRNAs may be very useful as diagnostic tools in dairy cows and potentially other livestock species," said study author Dr Xavier Donadeu from The Roslin Institute. "Specifically, we think that microRNAs could allow for selection early on of the most promising animals in a herd in order to maximise productivity and animal wellbeing."

Association of plasma microRNA expression with age, genetic background and functional traits in dairy cattle is published in Scientific Reports.