Edinburgh secures World One Health Congress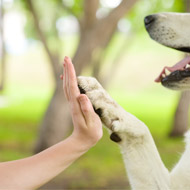 Event will showcase city's collective of research institutes
The prestigious World One Health Congress in 2020 will be held in Edinburgh, the University of Edinburgh has confirmed.

The announcement follows a successful competitive bid by the University's Royal (Dick) School of Veterinary Studies and The Roslin Institute. As well as delivering some £3.3m into the local economy, the event is set to reinforce Edinburgh's position as a world leader in medical health and expertise.

"We are thrilled to host the Sixth World One Health Congress in Edinburgh in 2020, welcoming international health scientists and professionals, opinion leaders and policymakers from the One Health community to Scotland's capital" commented Professor Anna Meredith of the Roslin Institute.

"As a global-facing university, we have vibrant One Health and global health partnerships nationally and internationally, and we look forward to showcasing the work of Scotland's world-leading collective of research institutes, and engaging with other stakeholders to improve the health of people, animals and the environment."

Dr Neil Anderson, also of The Roslin Institute, added: "The implementation of One Health requires a paradigm shift in how we manage the health of people, animals, plants and the ecosystems which support them. The conference will provide an ideal platform to discuss the practical implementation of One Health across the research, policy and practice arenas."

One Health is a growing international movement that recognises human health is connected to the health of animals and the environment. By bringing together various disciplines, it aims to enhance understanding of and preparedness for current and future outbreaks of infectious diseases.

The Congress, which is expected to attract around 2,000 participants, will take place on 15-18 June 2020 at the Edinburgh International Conference Centre.