Artists explore how pigs like to play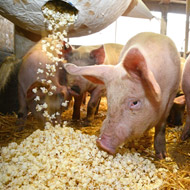 Project reveals pigs' enthusiasm for playtime

A piñata that dispenses popcorn and a pig version of KerPlunk are some of the novel items created by Scotland's Rural College (SRUC) for an event which explores how pigs like to play.

The items are two of eight sculptural objects designed by Edinburgh College of Art lecturer Andrea Roe and Leverhulme Early Career Fellow Cath Keay. Video footage of the pigs interacting with the toys is now on show at the Roslin Institute.

Working with SRUC animal behaviour specialists, the artists chose materials that would encourage pigs to play and invite them to tear apart, smell and eat the objects. The items are all based on the theme of 'carnival' and include a 'Fruit Machine', 'Apple Barrel' and 'Sweep Sensation'.

The idea is the brainchild of Professor Alistair Lawrence, chair of animal behaviour and welfare at SRUC and the Roslin Institute. Professor Lawrence's team is focused on how enrichments encouraging 'positive behaviour' can play a part in farm animal welfare.

"The inclusion of animal-based welfare measures such as the ability to move freely and a positive human-animal relationship among the proposed guiding principles for World Organisation for Animal Health (OIE) animal welfare standards reflects that positive welfare is now an active topic of discussion on the world stage," explained Professor Lawrence.

The project formed part of Andrea Roe's artist-in-residence programme and revealed the pigs' great enthusiasm for investigative play.

"Throughout the process of designing and making the objects we thought about what matters to pigs and carefully crafted objects that they could interact with and which would fit their body proportions," she said.

Visitors to the Roslin Institute can view the video until the end of June.
Image (C) Norrie Russell/The Roslin Institute