New cat virus could reveal insights about hepatitis B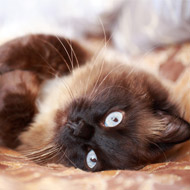 Discovery first step in developing vaccine to prevent infection

Scientists in Australia have discovered hepadnavirus (HBV) in an immunocompromised feline.

Until now, it was not known that companion animals could contract HBV - a virus that is in the same family as hepatitis B. Researchers said that the importance of the finding could not be overstated.

"Finding a new virus responsible for disease is the first step in developing a vaccine to prevent infection," said Dr Kelly Diehl of the Morris Animal Foundation, which funded the research. "It's especially exciting if the vaccine could prevent a future cancer from developing in immunocompromised or other vulnerable cats."

The virus was first discovered by a team at the University of Sydney in an immunodeficient cat that had died of lymphoma. After identifying the virus, the researchers tested stored blood samples from adult cats.
To their surprise, they found evidence of hepadnavirus infection in the samples.

"This is a very exciting discovery," said corresponding author Julia Beatty, Professor of Feline Medicine at Sydney. "Apart from its relevance for feline health, this discovery helps us understand how hepatitis viruses – which can be deadly – are evolving in all species."

The study, published in the journal Viruses, notes that the discovery presents no risk to humans or other pets.