Wolf dogs: a growing problem?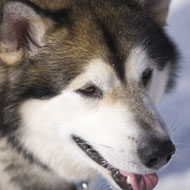 Hybrids should not be sold to the public, expert says
American drama series Game of Thrones is thought to be behind a surge in the popularity of 'wolf dogs', but should they ever be kept as pets?

The owner of Odin and Thor - the Northern Inuit dogs that star in the hit TV show - recently revealed that he is facing a growing number of enquiries from people wanting puppies.

It is not the first time wolf-like dogs have piqued the interest of the public. In 2013, the Kennel Club raised concerns that irresponsible breeders were 'cashing in' on the craze, leading to a rise in the number of husky-type dogs in rescue centres. This phenomenon was thought to have been prompted by films such as Twilight.

Whilst it may be assumed that dogs and wolves are not so different, being closely related, research in recent years suggests that their common ancestor went extinct thousands of years ago.

A 2014 study published in PLoS Genetics indicates that wolves and dogs actually parted evolutionary paths between 9,000 and 34,000 years ago. Interestingly, the findings suggested that dogs share a common ancestor with wolves, rather than having been domesticated by them.

Wolves and dogs do share many similar traits in terms of their physiology and behaviour; and they are inter-fertile, meaning they can mate and reproduce. Nonetheless, keeping a wolf dog as a pet will never be the same as keeping a dog.

Writing in a recent blog post, US wolf expert Shaunalee McKean said that naturally occurring hybrids are rare in the wild, which means most 'pet' wolf dogs being sold or given up for adoption were created by breeders. Many wolf dogs actually do not have any wolf in them at all, but have merely been bred to look 'wolfish' by crossing breeds such as huskies and malamutes.

This is dangerous to both the buyer and the animal. When wolf lookalikes misbehave - a bored husky demolishing a sofa, for example - these traits are blamed on their 'wolf traits'. Likewise, if a lookalike is well behaved, it may encourage other people to bring home a genuine wolf dog, expecting it to behave the same way as the well-trained husky cross they encountered.

McKean says much of what people think about wolves is fuelled by misunderstanding and misinformation; and those kept as pets often suffer as a result.

'It took many thousands of years for humans to selectively breed canines for the traits that make modern-day dogs such delightful companions: congeniality, flexibility, and eagerness to please. It is simply impossible to instil these traits in a wild animal overnight.

'Many an unsuspecting wolf lover has purchased a wolf or wolf dog pup, only to find that it is largely un-trainable — since it does not care much about pleasing its owner. And as it grows into adulthood it becomes unpredictable, especially around children and small animals.

'Many such animals end up living miserable lives on the end of a chain after a frustrated owner gives up on trying to care properly for the animal. When such an animal is cornered or frightened and reacts by attacking and the incident reinforces the common misconception that wolves are bloodthirsty and aggressive creatures.'

Often, unwanted wolf dogs are passed on to another unsuspecting buyer, given up to a sanctuary or even released into the wild, where they may starve to death or be unfairly blamed for predation incidents.

McKean hopes to raise awareness that these animals are high maintenance and should never be sold to the general public.