Custom implant saves dog's life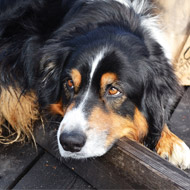 3D-printed implant used to reconstruct upper jaw
A dog from Canada has become the first in the world to be fitted with an implant to replace the hard tissue lost to tumour removal.

The seven-year-old Bernese mountain dog was presented to Alta Vista Animal Hospital, Ottawa, with a tumour on the left side of his upper jaw. Vets had little option other than the total removal of the growth followed by reconstruction.

Due the complexity of the region, it was decided that a customised 3D-printed titanium implant supporting the dog's bone structure would be the most appropriate treatment.

The procedure was carried out by Dr Julias Liptak, who used a titanium maxillofacial implant designed by Voxelmed in Gemany. Using digital imaging technology, the team at Voxelmed created a 3D model of the affected area. This was then used to create a custom implant with input from Dr Liptak.

"During surgery, the affected areas, along with clean tumour margins, were removed," explained Jan Klasen, veterinary surgeon, 3D designer and CEO of Voxelmed. "The implant was then put into place and fixed with surgical screws.

"A facial axial pattern skin flap was prepared and used to cover the affected area and the implant. This left the dog with a particularly impressive physical outcome as the nose structure did not have to be altered to account for the missing tissue."

Klasen adds that without the manufacturing technology, it would have been almost impossible to reconstruct the dog's jaw as the area was extremely complex.

"The implant had to have a similar shape and functionality as the dog's existing bone structure," he said. "Using additive manufacturing to maintain the original shape and function of the oral and nasal cavity ensures a high quality of life for the dog, just as a naturally shaped skull and maxilla helps the dog to breathe and eat easily.

"To my knowledge, this is the first implant of its kind. Prior to this case, the majority of veterinary surgeons were unaware that the technology was even available. Similar reconstructions are now being planned in Germany and there is ongoing research into how animals can benefit from this procedure."

The dog was able to leave the hospital just one day after surgery and has since made a full recovery.