MBE for veterinary nurse Hayley Walters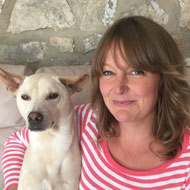 New Year's Honour recognises services to animal welfare

Veterinary nurse Hayley Walters has been awarded an MBE in the New Year's Honours List 2018, in recognition of her contribution to animal welfare and veterinary education.


After working in mixed veterinary practice for 10 years, Hayley spent three years working in China and Vietnam for the charity Animals Asia, which rescues bears from the bile farm industry and rehabilitates them into semi-natural enclosures. During this time she also gained experience in dealing with mass dog rescues in China.
Services to welfare and education

Hayley now works as an anaesthesia and welfare veterinary nurse at the University of Edinburgh, where she is responsible for training veterinary students and nurses in all aspects of anaesthesia, handling, inpatient care and pain management at the teaching hospital. She also teaches animal welfare and clinical skills to students across the UK and overseas for the Jeanne Marchig International Centre for Animal Welfare Education (JMICAWE). 


She previously received the Ceva Vet Nurse of the Year Award in 2015 and the RCVS Golden Jubilee Award in 2014, in honour of her exceptional contribution to animal welfare through her teaching, clinical and international outreach work.
Recognition for veterinary nursing

Commenting on her MBE she said she is "really happy" to see the work of the veterinary nursing profession being recognised by the Queen.


"I started my career as a part time receptionist and kennel maid when I was 18 and qualified as a VN three years later," she said.


"I'm 40 this year, still love the job, still care so much about what animals experience when they're away from home, scared and everything that is familiar to them has gone, but still can't believe that you don't always find 'veterinary nurse' in the drop down menu when filling in the job section on a form! It's ridiculous!" 


"Joking aside," she added, "I feel very privileged to receive an MBE but it has only happened because I am fortunate enough to work with really dedicated and inspiring people.


"Our international animal welfare education team within The University of Edinburgh is small but between us all we are reaching students not only in the UK but overseas too where often animal welfare is not taught.


"This MBE will hopefully raise our profile further so that we can continue the work for many more years. Student vets and VNs are the future ambassadors for animals so it's really important that they are taught how to fulfil this role and given the opportunity and motivation to do so."


Liz Cox, chair of Veterinary Nurses Council, said Hayley's inclusion in the New Years Honours List "truly highlights the importance of the work carried out by veterinary nurses in caring for animals and providing education on animal health and welfare issues and I hope it inspires other veterinary nurses to take pride in their work and their achievements."