New guidance to help vets recognise signs of dog fighting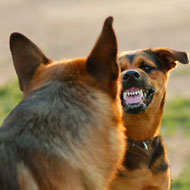 Resource gives advice on recording injuries and reporting concerns
New guidance for veterinary surgeons and nurses on dog fighting has been published by the League Against Cruel Sports.

The 'Advice for the veterinary community' resource is free to download and describes the warning signs of dog fighting. It also gives vets and nurses guidance on how to record injuries and report their concerns.

"Veterinary staff are on the front-line when it comes to seeing injuries that dogs may have suffered as a result of dog fighting and this advice sheet offers clear guidance on how to recognise, record and report the signs of this terrible crime," said Suzanne Heaney, dog fighting program manager.

"By following this advice, staff will be well-informed about how to act when one of their patients raises concerns that they may have been injured through dog fighting."

Dog fighting is prevalent in urban and rural areas across the UK and involves many different breeds, including terriers, mastiffs and bull breeds. The training methods used to prepare dogs to fight see the victims endure immense pain and suffering.

Warning signs of dog fighting include multiple scars in various stages of healing. Typically these are wounds are to the head, neck, chest, and forelimbs. The dog may also present with damage to its teeth and gums, and his ears and tails may be crudely chopped.

The advice sheet is available to view online or download from www.league.org.uk. Veterinary clinics can also request a practice pack including dog fighting client information leaflets and waiting room posters from campaign@league.org.uk.

Anyone with information about dog fighting can confidentially contact the League Against Cruel Sports Animal Crimewatch service on 01483 361108 / www.league.org.uk/crimewatch.