Rottweiler study uncovers new evidence on behaviours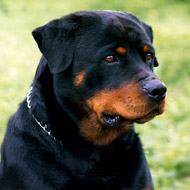 Undesirable behaviour in Rottweilers kept as pets have been the centre of much debate.
Data uncovers common disorders and ownership rates

Research conducted by the RVC's VetCompass Programme has revealed new insights into the behaviours, demographics and disorders of Rottweilers. The results could alert prospective owners and vets to potential health issues and assist with diagnosis and treatment.

Rottweilers are often used for guarding, police and military work - and in recent decades more and more people have been keeping them as pets. But behavioural traits that are ideal for a guard dog are not always appropriate for the household. As such, undesirable behaviour in Rottweilers kept as pets have been the centre of much debate.

It is thought that negative media stories may unfairly prime the public to perceive the breed as more dangerous than other breeds. In the study, researchers analysed data submitted by hundreds of UK veterinary practices to give a less biased and truer picture of the health and behaviour of these dogs.
Key findings include:

Rottweilers

are shrinking in popularity in the UK. The breed dropped from 1.75 per cent of all puppies born in 2006 to 1.07 per cent in 2013 - a difference of almost 40 per cent


the

Rottweiler

is a rather short-lived breed, with an average lifespan of nine years. This is shorter than some other breeds of similar body size


common disorders recorded in

Rottweilers

during the study were aggression (7.6 per cent), overweight/obesity (7.06 per cent), ear infections (6.12 per cent) and arthritis (4.69 per cent)

males were found to be much heavier, short-lived and predisposed to aggression than females.


It is hoped that the findings will help owners stay alert for these conditions - e.g. to regularly check their dog's ears for redness and pain which could indicate an ear infection. They also suggest that preventive health strategies are important for the breed - e.g. careful dietary control to avoid obesity.

Dr Dan O'Neill, RVC senior lecturer in epidemiology and lead author of the study, said: "With the development of VetCompass at the RVC, the era of Big Data has now arrived for veterinary medicine. Anonymised clinical records from vet practices are now telling us things about our pets that we could only guess at previously. It is great to see VetCompass evidence being used so widely to enhance animal welfare."

Kennel Club secretary Caroline Kisko added: "The Rottweiler is one of the breeds within the Kennel Club's Large and Giant Breed Working Group, set up to protect and improve the health of these breeds, and is also one of the breeds in the second round of our Breed Health and Conservation Plans project. VetCompass research will provide breed-specific insights that can be invaluable to the Kennel Club, as well as to dog breeders and puppy buyers."

The full research paper can be found at https://cgejournal.biomedcentral.com/articles/10.1186/s40575-017-0051-7