Understanding the adult cat's priorities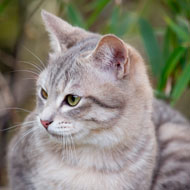 Vicky Halls delivers lecture on emotional welfare
A leading feline specialist delivered an engaging lecture on cats and their emotional and behavioural needs at London Vet Show this morning (16 November).

Speaking to a packed room of delegates, Vicky Halls explained how the veterinary team can help clients provide good emotional welfare for their adult cats. She discussed the changes that take place emotionally and behaviourally from kitten through to adulthood, before looking at how to understand the adult cat's priorities by recognising its welfare needs.

Vicky's 'take home message' was that with adulthood comes social and territorial pressure and that cats can be susceptible to chronic stress if they cannot control their environment.

Welfare needs

We can begin to understand the adult cat's priorities by recognising its welfare needs. Referring to the hierarchy of basic needs for cats - a concept developed by Dr Lauren Finka - Vicky said that it is not possible to fulfil a cat's emotional needs if its basic physical functions are not met (food and water, a comfortable temperature and freedom from pain, injury and disease).

Once these needs are met, the client can then focus on their cat's access to resources and their environment.

Vicky also referred to the ISFM AAFP Guidelines on the cat's environmental needs which can be used to help cat owners understand what constitutes a healthy feline environment. Understanding the principles of these guidelines can help both vets and cat owners understand the incidence of stress-related disorders and behaviour in their pets.

The three second rule

Part of meeting a cat's needs is to provide positive, consistent, and predictable human-cat social interaction. Vicky stressed that members of the household should not try to force interaction, but instead let the cat initiate, choose and control when human contact takes place.

Her top tip is to introduce a rule whereby if the cat initiates contact with the owner, the owner can tickle their scent glands for three seconds. If the cat wants more social interaction they will let their owner know. Otherwise, the cat should be left alone.

Vicky Halls is a Registered Veterinary Nurse and full member of the Association of Pet Behaviour Counsellors. She is an enthusiastic supporter of the charity International Cat Care, working on various behaviour and welfare projects, with a particular interest in the complexity of the modern cat/owner relationship.

A regular contributor to television, radio and specialist publications, Vicky is also author of a number of bestselling books and co-author of several veterinary textbooks.