Hurricane poses problems for pets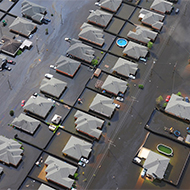 Vivid stories are emerging from the havoc of Hurricane Harvey
As rescue efforts continue in Texas as thousands of people face the effects of Hurricane Harvey, heart-warming and heart-breaking accounts are emerging about their pets and other animals caught up in the storm.

Many 'good Samaritans' have helped their neighbours rescue their pets using their boats; while pictures are appearing across the media of people carrying their pets to safety – some across their shoulders and some using bags, blankets and boxes to shelter.

On the other hand, Texas officials have warned owners against leaving pets and livestock tied up, repeatedly. "I promise you, that I will hold anyone accountable that unlawfully restrains their dog in extreme weather conditions," said Roman Forest police chief, Stephen Carlisle, in a statement. "Dogs are your family members too."

As a motorist stopped for gas in Runge, Texas, while heading to the border to pick up his own pups, a dog he nicknamed 'Harvey' hopped into his Jeep to escape the storm. The motorist posted a series of tweets and videos on social media, asking for people to share in hopes of finding the dog's rightful owner. The dog didn't have a microchip, but fortunately he was able to locate the owner of 'Cash' – the dog's real name – and he posted a video of his safe return.

In another incident, a resident in Sinton, Texas, spotted a young dog carrying a bag of food in its mouth as it made for shelter. She took a picture that quickly went viral with more than 34,000 shares and 16,000 likes. The pup's owner subsequently confirmed that 'Otis' made it home safe and sound.

It was not just domesticated animals that were spooked by the storm. According to the New York Post, a taxi driver in Missouri City, Texas, was shocked to find a Cooper's hawk camping inside his cab on Friday. The bird had flown in through an open window, apparently terrified of the low pressure and high winds of the storm.

The Humane Society of the United States (HSUS) is offering advice to all animal owners in Texas and co-ordinating rescue responses and funding.