Blue Cross reminds cat owners to microchip their pets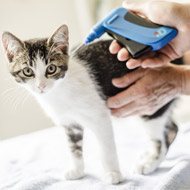 78 per cent helped by charity last year were not microchipped
As National Pet Microchipping Month reaches its half-way point, Blue Cross is reminding owners to microchip their pets or risk losing them forever if they stray.

Between May 2016 and May 2017, some 5,760 cats were admitted to the charity's rehoming centres. However, a staggering 78 per cent of these cats were not microchipped or had to be microchipped by Blue Cross staff.

While many of the cats admitted to the charity are stray, some are in good condition, suggesting they are likely to be a family pet which had gone for a stroll.

Caroline Reay, clinical lead at Blue Cross, commented: "Particularly in the summer months, with cats going out for longer and wandering further, there is a higher risk of straying and of accidents.

"This is why it's so important to microchip your cat; even if the cat is an indoor cat as there is still risk of them escaping – in fact, indoor cats are more at risk of getting lost if they do escape. So please, be safe and chip your cats."

As there is no way for Blue Cross staff to contact the original owners of the un-microchipped cats, many will need to be re-homed.

But the charity has also seen many happy cases of reunions after a long stretch of time because the cat does have a microchip.

One lucky feline managed to stray 20 miles from his home, but thankfully his microchip details were up-to-date, so he was able to be reunited with his family.