Study reveals owners' motivations for pet blood donation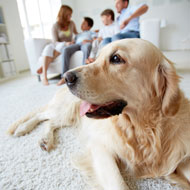 Further examination could benefit human healthcare
A study by the University of Nottingham has revealed new insights into why pet owners offer their dogs up for blood donation.

Millions of human lives are saved by blood donors every year. But in the past decade, more and more pets have been saved, thanks to the work of canine blood banks. These banks collect, process and store canine blood and are being increasingly used by veterinary surgeons as animal healthcare advances.

Drawing on findings from interviews with pet owners, the study found that owners often refer to their personal experiences or assumptions about human blood donation when explaining their decision.

Some pet owners claimed that their dog's status as a family member meant that they were expected to donate. Expanding understanding of the human-animal bond, the study found that the act of donation provides an opportunity to 'display' interspecies family relationships.

Above all, the research reveals that decisions made in veterinary practice can be relevant to decisions made in human healthcare. Experts say that further examination could benefit both healthcare sectors.

"The findings of this study are fascinating in highlighting how the position of pets in some families leads to a blurring of boundaries between blood donation decision making for humans and animals," explains lead author Dr Vanessa Ashall.

"The implications are very significant with some pet owners suggesting that their animal donating blood alleviates the guilt they feel about not donating blood themselves. This work highlights how a conflict of interest could arise between animals and their owners in the blood donation clinic."

According to the UK National Blood Service, 25 per cent of people will need a blood transfusion at some point in their lives. But only four per cent of adults in the UK are blood donors and there is a growing shortage as eligible blood donors retire. Researchers believe the key messages revealed in this study could be used to develop understanding of blood donation and wider human healthcare decisions.

"This novel research opens up the fascinating possibility that people's experiences at the vets influences their healthcare decisions at the doctors, and vice-versa," adds Dr Pur Hoson-West, assistant professor in welfare, ethics and society at the University of Nottingham. "This represents a whole new area for medical sociologists and others to study."

The paper, 'Doing good by proxy': Human-animal Kinship and the 'Donation' of canine blood' is published in the journal Sociology of Health and Illness.