Fresh calls to allow pets in care homes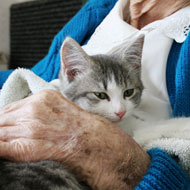 Rallies held to help 87-year-old keep his dog

Hundreds of thousands of people have signed a petition urging a Scottish care home to reverse its decision to evict an 87-year-old man unless he relinquishes his dog.

Rallies were held over the weekend (12 February) in Westminster and Edinburgh in protest against Mead Medical Services Ltd and Burnfoot Hall management.

Burnfoot Hall care home in Ecclefechan served Bob Harvey, 87, will a formal notice requiring him to remove his schnauzer dog Darkie by 14 February, or face eviction on 19 April. A petition set up by his close friend Tracey Streit has received nearly 240,000 signatures. A JustGiving page aiming to raise £150,000 for Bob has so far raised just under £30,000.

Bob moved into the care home with his wife nearly four years ago, on the condition that they could keep their dog Darkie. Sadly Bob's wife was suffering from a terminal illness and died two years ago.

Burnfoot Hall care home reportedly says Darkie is causing trouble and plans are in place to change its policy on pets. Bob has to undergo dialysis three times a week and the requirement to part with his dog has left him "heartbroken, unable to eat or sleep", according to the petition letter.

Estimates suggest more than 140,000 elderly people who move into care homes or sheltered housing are forced to relinquish their pets each year. Of these, many fail to find new owners and are euthanised. Research shows many owners show visible signs of distress on relinquishing their pets.