Outdated microchip information costing lives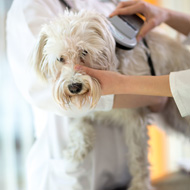 Recently launched database offers solution to out-of-date contact details

Research commissioned by the UK's largest dog welfare charity, Dogs Trust, reveals that an average of 12 dogs per day face being put to sleep due to outdated microchip information.

The annual Stray Dog Survey revealed a 21 per cent decrease in strays handled by local authorities between 2015 and 2016. Nonetheless, this number still equates to 81,050 dogs handled, with more than 37,000 unclaimed dogs in local authority kennels.
What's more, one in eight of these dogs are thought to be missing pets who are at risk of being put to sleep or rehomed, simply because their owners have not updated their contact information on the microchip.

Dogs Trust chief executive, Adrian Burder said: "To discover that the number of stray dogs in the UK is down from last year is promising, but with over 37,000 dogs remaining unclaimed in council pounds last year, it's clear we still have work to do.

"Local authorities work tirelessly caring for stray and abandoned dogs each year, but sadly they just don't have the resources or man power to care for every stray dog in the UK. Stray dogs that find themselves at Dogs Trust are the lucky ones, as we will never put a healthy dog to sleep, but not all of the unclaimed dogs are so fortunate.

"What's most saddening from this year's figures is the 4,732 dogs who face destruction due to a lack of an up-to-date microchip…"

Tamara Swarbreck of the National Veterinary Database (NVD) said: "The figures published today by Dogs Trust are astounding. It's sad to think that so many pets are put to sleep as a result of out-of-date contact information.

"The NVD was set up specifically to overcome this issue. All microchip information is processed and kept up-to-date through a pet owner's local veterinary practice. If a pet owner moves house or changes phone number, all they need to do is contact their registered veterinary practice to let them know. The information updates on the practice management system, which automatically synchronises and updates the database.

"Through working directly with veterinary practices, the need for pet owners to go online and remember to update their information is overcome. NVD registered practices are able to reassure their clients that should their pets be lost, the most up to date contact information will be available.
For more information on microchipping and becoming a NVD registered practice, please contact enquiries@nvds.co.uk or phone 0330 123 9924.