New blood test to tackle devastating cattle disease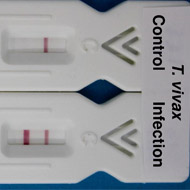 Researchers develop inexpensive test for nagana

A new blood test has been developed to tackle a devastating cattle disease that affects much of sub-Saharan Africa.

Nagana is caused by two parasites - Trypanosoma vivax (T.vivax) and Trypanosoma congolense (T.congolense) and causes muscle wasting and death.
With some 60 million cattle at risk from the disease, nagana also has a huge economic impact on smallholder farmers across the continent.

Until now, nagana was relatively difficult to diagnose because early symptoms can be confused with other endemic diseases. But, writing in the journal PLOS Neglected Tropical Diseases, researchers describe how they have developed a device that can tell within 30 minutes whether or not an animal is infected with T.vivax.
The device is less than three inches long and is similar in format to a preganancy test. Requiring just a single drop of blood, it does not require electricity or any additional equipment - factors that are essential for deployment in resource-limited settings.

It is hoped that, with further development, the device will prove sufficiently useful for the detection of nagana in the third world. Project leader Mike Ferguson, professor of life sciences at the University of Dundee, explains:
"Such a test could allow millions of smallholder farmers an efficient way to test their cattle for this debilitating disease and give peace of mind that any subsequent treatment for T. vivax infection will be done with the certainty that the patient is infected, which saves the farmer money."

In the study, researchers at the University of Dundee joined forces with the Global Alliance for Livestock Veterinary Medicines (GALVmed) to identify the components of T. vivax that cattle make antibodies to.

One of these components was developed into a prototype diagnostic device in collaboration with Dr Steven Wall at BBI Solutions OEM Limited, who specialise in the development and manufacturing of lateral flow assays.

The prototype diagnostic device was evaluated with over a hundred serum samples from uninfected and T. vivax-infected cattle.
The researchers say the results have inspired GALVmed to further investigate this innovative diagnostic test for use in Africa.

"This will give more control to the smallholder farmers whose quality of life has been affected by this disease that covers over 10 million square kilometres of Africa," says Professor Ferguson.
Image (C) University of Dundee