Dogs find illegal ivory 'within minutes'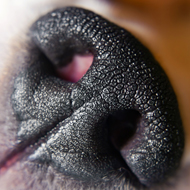 Specially trained team celebrates first find in Tanzania

A pair of specially trained sniffer dogs have nabbed their first haul of illegal ivory, the Wildlife Conservation Society (WCS) reports.

The dog team and their handlers from Tanzanian National Parks (TANAPA) are able to detect a range of illegal wildlife products, arms and ammunition.

On 13 August, they were given instructions to carry out a late night house search in a village outside Tanzania's Ruaha National Park, after authorities received a report of illegal ivory being stored in a residence.

Within minutes of searching the compound outside the house, Belgian malinois dog Jenny found something hidden underneath a parked vehicle. Her keen sense of smell had led the team to four concealed tusks hidden in plastic. According to TANAPA officials, the tusks are small and presumed to be from young elephants that had not yet reached middle age.

One man has been taken into custody and is helping authorities with their enquiries.

WCS conservationists say the successful seizures and arrests are the result of two years' work, which involved building safe kennels, training dogs and handlers, ensuring the health of the dogs in Ruaha and equipping a specialist vehicle.

WCS project director Aaron Nicholas said: "This ivory bust shows what a powerful tool the detection dog unit is. It adds to the government's strategy to curb elephant poaching in Tanzania. Well done to the TANAPA handlers and staff and our four-legged front line friends."

Dr Tim Davenport, WCS country director in Tanzania, also warned: "This arrest is a very clear warning to those wanting to poach elephants in the Ruaha-Rungwa landscape. Jenny and Dexter are now on duty, and they will find you."