Discovery sheds light on how vertebrates see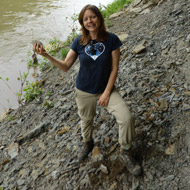 Researchers identify details in eyes of fossilised fish
A study of fossilised fish has quashed a long-standing theory on how vertebrates see.

After million's of years of degeneration, today's hagfish are completely blind. Research published in the journal Proceedings of the Royal Society B, however, suggests that ancient hagfish had good vision.

In the study, researchers analysed detail in the eyes of 300-million-year-old lamprey and hagfish fossils.

Using a high-powered microscope, they found that fossil retina is composed of minute structures called melanosomes. These are the same structures that occur in human eyes and prevent stray light bouncing around in the eye, allowing us to form a clear image.

This is the first time that such detail in fossils has been revealed. Before now it was thought that such anatomical details could not be preserved.

Professor Sarah Gabbot, who led the research, explains: "To date models of vertebrate eye evolution focus only on living animals and the blind and 'rudimentary' hagfish eye was held-up as critical evidence of an intermediate stage in eye evolution.

"Living hagfish eyes appeared to sit between the simple light sensitive eye 'spots' of non-vertebrates and the sophisticated camera-style eyes of lampreys and most other vertebrates."

Detail observed in the hagfish fossil suggest it had a functional visual system. This means that the vision of living hagfish has been lost through millions of years of evolution, and the animal is therefore not as primitively simple as researchers first thought.

Professor Gabbot says that she will now inspect the eyes of other ancient vertebrate fossils to see if it is possible to build a picture of the sequence of events that took place in early vertebrate eye evolution.