Scotland cracks down on puppy farmers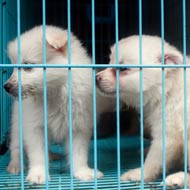 Operation Delphin aims to tackle illegal trafficking
The Scottish SPCA is heading up a multi-agency operation to stop puppies being illegally trafficked into Scotland. For the first time, ferry firm Stena Line, Police Scotland, HMRC and several animal welfare charities are working together to tackle the problem.

Operation Delphin was prompted by a BBC investigation, which revealed Stena Line's Belfast to Cairnryan service was being used to traffic puppy farmed dogs into Scotland.

BBC's Panorama team covertly filmed puppies being handed over to Scottish puppy dealers, after being sourced from a puppy farm in Northern Ireland.

The head of the Scottish SPCA's special investigations unit, who cannot be identified due to his undercover work, said: "Unfortunately, the puppy trade is big business in Scotland, with thousands of dogs being brought into the country each year, from Northern Ireland and the Republic of Ireland in particular…

"We're acting on the information received to identify those operating in this cruel business."

Since the operation began, many dogs have been seized and a number of people have been reported to the Procurator Fiscal, he added.

Scottish SPCA investigators are working alongside Stena Line at Cairnryan Port, using new powers to stop and search vehicles it suspects of trafficking puppies illegally.

Stena Line says it would like to ban illegal puppy dealers from using its service but this would require a change in the law.

Spokesperson Diana Poole told the BBC: "Stena Line has a close working relationship with both Dard and Defra and is working on a number of collaborative measures with the authorities to eradicate this illegal practice."

Britain's Puppy Dealers Exposed aired on BBC One this week and has prompted wider calls for a crackdown on the illegal puppy trade.