Pets rescued in wake of Canadian wildfires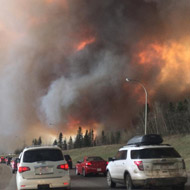 Over 80 rescue groups open their doors to evacuee's pets

Emergency teams in Alberta, Canada, are working to rescue abandoned pets in the wake of the devastating Fort McMurray wildfires.

Despite major damage and thick smoke, the Regional Municipality of Wood Buffalo, which oversees the city, said that it was sending teams in to rescue pets at their owner's request.

Among those enlisted to help is locksmith Kevin Wonitowy, who will break into homes where animals are trapped inside.

Speaking to Reuters, Mr Wonitowy said he would be needed for three to four days in the nearly empty city that was once home to 88,000 pets.

Another rescue worker, Angel Rowe of Leduc, Alberta, said he organised a convoy to Fort McMurray on Friday. Mr Rowe said the convoy would be stationed outside the city to transport the rescued pets to animal shelters.

According to a local non-profit website, over 80 animal rescue groups have opened their doors to evacuee's pets so far. But sadly, reunification with owners may still be some time off.

Tammy Dumais, who runs the Guardian Angel Animal Rescue Society in Edmonton, said that even people who brought their pets with them during evacuation ended up unable to take care of them.
She added that at least 11 cats have been handed over to her organisation by owners fleeing south.

Residents in Fort McMurray were forced to evacuate the city last Tuesday (3 May) with little warning.

Access has since been restricted, and many owners who left their pets behind have been calling on animal shelters and appealing for information online.

Image (C) DarrenRD/Wikimediacommons