Shock collar ban remains in Wales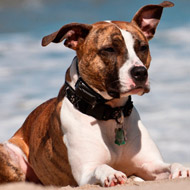 Animal welfare concerns 'outweigh the benefits'

The Welsh ban on electric shock collars and fences will remain in place after a review found the benefits are outweighed by animal welfare concerns.

Under the 2010 ban, the use of any collar capable of administering an electric shock to cats and dogs is prohibited. This includes anti-bark collars, those operated by remote controls and those used in conjunction with electric fencing systems.

A recent review by veterinary surgeon Dr Ruth Lysons examined the latest scientific evidence on the animal welfare implications of these products. It concluded that any training benefits are outweighed by the cost to animal welfare, as the devices may cause pain and effective alternatives are available. The scope for their misuse is also too high.

Dr Lysons considered the benefits of electronic fencing systems, as there have been requests to legalise these to help prevent cats being involved in road traffic accidents. While there are limited alternatives for confining cats, there are clear welfare concerns about the use of fences and little scientific evidence to assess their use and benefits.

The welfare cost of anti-bark collars was also found to exceed the benefits of controlling excessive barking, given the limited efficacy of these collars and readily available alternatives.

Welsh deputy minister for farming and food, Rebecca Evans, said that based on this advice she is content to keep the ban in place.

The news was welcomed by the RSPCA, who called for similar legislation to be introduced in England. Wales is currently the only nation in the UK to ban the use of these devices.