MEPs adopt resolution to end illegal pet trade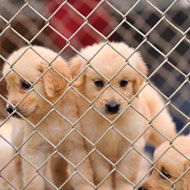 European Parliament calls on European Commission to take action

The European Parliament has adopted a resolution calling on the European Commission to stop the illegal trade in pets.
In a show of hands on Thursday (25 February), MEPs urged the Commission to make sure all member states have compatible databases of cats and dogs, and to consider setting up databases for other pets too.
They believe that a requirement to register pets, together with EU-wide data sharing, would reduce opportunities for falsifying documents and illegal trade.
"Such a harmonisation would provide greater certainties over the age of any given animal, its vaccination status, and would allow for proper cross-border traceability," said Renate Sommer MEP, the instigator of the Parliament's Resolution.
The trafficking of pets is estimated to be the third most profitable illegal trade after weapons and drugs within the EU.
Welcoming the motion, a Eurogroup for Animals spokesperson said: "This Resolution sends a clear signal to the European Commission that it is time to act to stop this horrific, illegal trade. They have the powers in place, they have the evidence from their own study, and now they have the clear political will from the elected representatives of the Union too."
Illegally traded pets are often poorly bred and at increased risk of disease. MEPs say that illegal trafficking is also linked to organised crime and poses a risk to public health.
Renate continued: "Many Member States already have systems for the identification and registration of pets. We are not seeking to reinvent the wheel here - we do not see the need for some sort of single EU level database.
"All we need is to have the same requirements, with compatible systems in each Member State. This should neither be beyond the wit of EU Governments, nor should it cause any concerns with the Commission over the issue of subsidiarity.

"The evidence is clear, as is the solution. As well as being our companions, pets do pose serious transmissible disease threats to animals and humans alike. I now hope that the Commission will have the courage to take the necessary political decision, based on our Resolution, so that we can end this cruel inhumane trade, and so that Europe's pets, animals and owners alike are better protected in the future."