Votes open for new Purr Minister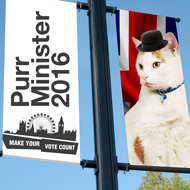 Who has the best whiskers in Westminster?

The claws are out again this year as politically minded felines battle for the position of Purr Minister. For the third year running, Battersea Dogs & Cats Home is asking the public to vote for their favourite cat in Westminster.

Cats belonging to seven of the country's politicians have made their way onto the shortlist and are vying for the top spot.

Battersea's head of catteries, Lindsay Quinlan, commented: "This year we've some really cat-tivating contenders and we urge the public to make their vote count by backing one of our political pussycats. It's meow or never!"

Last year's winner was Billy, owned by the former Mid Dorset & North Poole MP, Dame Annette Brooke. She said: "We acquired Billy from a rescue centre in Dorset last July, and were so impressed with them.

"My family stay in touch with the centre, letting them know how Billy is getting on, and I would really encourage anyone looking for a new pet to rehome from a rescue."

Voting for the Purr Minister elections will run until midnight on Sunday, 6 March and the winner will be announced the following day. To view the 'Manifurstos' and place your vote, visit: www.battersea.org.uk/purrminister2016

This year's nominees are:
Collar, as nominated by Maria Caulfield, MP for Lewes, has had a tough background but has learnt how to live with humans again after she was found abandoned in a greenhouse in the snow two years ago.
Mango, as nominated by Simon Kirby, MP for Brighton Kemptown & Peacehaven, has a purr-sonal statement that is of a high pedigree and will use all of his seven lives devoted to the claws.
Midnight, as nominated by Victoria Prentis, MP for Banbury, was found as a stray behind a factory but now has the confidence and friendliness needed to steal the Purr Ministerial cat crown.
Pixie and Smudge, as nominated by Steve Reed, MP for Croydon North, are entering the competition as a purr, with one possessing clear leadership potential and the other a strong initiative to succeed.
Jackson, as nominated by Bill Esterson, MP for Sefton Central, is a true one nation cat and promises to be the best ambassador for cats and rescue centres in both the North and the South.
Charlie, as nominated by Neil Parish, MP for Tiverton and Honiton, will fight tooth and claw to bring down unempawment and under Claws 4 of the Bundescat is promising free cream for all.
Parsnip, as nominated by Mark Spencer, MP for Sherwood, is promising the return of free milk and a ban on all fur products – according to his Manifursto.
Image courtesy of Battersea Dogs & Cats Home