Pet owners spend £78m more on energy bills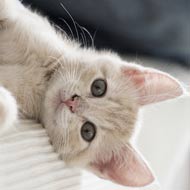 Experts say leaving the TV on for pets may cause stress
Worried pet owners are spending an extra £78 million on gas and electricity every year, due to fears that their pets will get cold or lonely. This is according to new research from the Energy Saving Trust.

The survey found two in five pet owners leave their heating on during the day to keep their pets warm, while over a quarter turn on the radio. More than one in 10 people said they put the TV on to keep their pets company when they're home alone.

Leaving the heating on all day could boost energy bills by as much as £140 a year. But experts say this may be unnecessary, and leaving the TV or radio on could actually cause pets stress and separation anxiety.

Rosie Barclay, chairwoman for the Association of Pet Behaviour Counsellors, said: "Dogs and cats by and large are designed for the outdoors and don't necessarily need the heating left on for them.

"It's far better to let the temperature reduce gradually when you head off to work, then gradually increase when you get back. You can do this quite easily by programming your heating.

"Even something like leaving the television on when you go out can actually trigger separation anxiety and stress for your pet. This is because our pets are clever and associate switching on the TV or radio as an indication they are about to be left on their own and not receive your attention."

Instead, she recommends using hollow pet toys with treats hidden inside, or hiding treats around the house, perhaps in a cardboard box full of scrunched up paper.

"If that's not an option you could give them a t-shirt you slept in and it will have your smell on it," she added. "This will likely give them far more comfort than any programme on television or the radio."

Ross Allen, a spokesperson for the BSAVA, pointed out that most animals should not be left alone for long periods of time - particularly dogs. Mr Allen urged pet owners to speak to their vet about the best way to keep pets comfortable.