AFSCAN announces educational initiative in Africa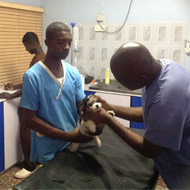 Project aims to advance standards of veterinary care across Africa

The Board of the African Small Companion Animal Network (AFSCAN) has launched a distance learning educational program and has set out plans for the creation of five new veterinary associations in Africa.

AFSCAN, an initiative from the World Small Animal Veterinary Association, aims to advance standards of veterinary care across Africa through facilitating the creation of a sustainable network of companion animal veterinarians, associations and specialist groups in Sub-Saharan Africa.

The project was launched during a meeting of the AFSCAN board which took place during the WSAVA World Congress in Cape Town, South Africa, in September 2014.

The programme provides access to a range of online learning resources, on computers and internet-connected devices which have been donated by UK veterinary practices.

Veterinary associations have also been set up in Kenya, Namibia, Nigeria, Tanzania and Uganda. It is hoped that the first of them will receive WSAVA membership at the WSAVA World Congress, in May 2015.

Dr Gabriel Varga, Chairman of the AFSCAN Board, said: "In the six months since AFSCAN was launched, we have built a committed community of experts and partner organisations who share our goals. We are very grateful to them all for their support.

"Working together, we will advance the veterinary profession across Africa and, in so doing, improve the lives of millions of animals and humans. With the foundations of our work now firmly in place, we are looking forward to working towards our goals in the months ahead."