Cat stress poorly understood by owners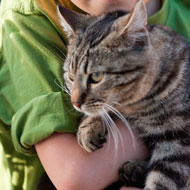 More than half of owners cuddle their stressed cat, research finds
Causes of feline stress are poorly understood by the UK's cat owners, according to new research by Cats Protection.

A survey of 1,300 owners found more than half (53 per cent) would deal with their cat's stress by giving it a cuddle.

The findings come ahead of a BBC Two Horizon documentary, in which Cats Protection took part. Titled Cat Watch 2014: The New Horizon Experiment, the series tracks the lifestyles of 100 cats. It is due to begin on Tuesday, October 7.

Other key findings were:

More than half (55 per cent) of owners were unaware that living with another cat or dog could be stressful for their cat.
Over a third (35 per cent) allowed neighbouring cats into the house, through a door, window or their cat's own cat flap. Half of the owners did not realise that other cats entering the home could be a source of stress.
More than half (51 per cent) did not realise soiling or wetting in the house is a sign of stress.
Just a quarter of respondents knew that excessive grooming of a particular area indicates stress.

The charity's behaviour manager Nicky Trevorrow said: "Being held or stroked for too long can be very stressful for some cats. Space and peace is often what they need - they're not small furry humans so what would comfort us won't necessarily comfort them.

"Owners love their animals and want them to be happy," said Nicky. "But our research has highlighted a lack of understanding of stress triggers for cats and how to deal with them."