Pet travel rules set to change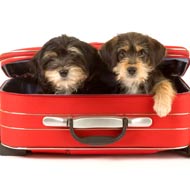 New pet passport aims to help prevent forgeries
A new pet passport will be introduced in December 2014, along with a number of other changes to the EU pet travel regulations.

The move follows considerable concern over the number of pets being illegally imported with fake passports, heightening disease risk in the UK.

Changes will include a minimum age for rabies vaccinations, new rules for individuals travelling with more than five pets and new security measures to prevent passport forgeries.

Some of the changes were outlined at this year's BSAVA Congress in April, during a discussion about pet imports.

From December 29, when the changes come into effect, the veterinary surgeon issuing the passport will be required to fill in a new page recording their details, making it easier for them to be traced and contacted.

In addition, vets will be required to retain certain information about the pet and their owner, as well as the unique passport number for a period of at least three years.

Information to be kept include the name and contact details of the owner, the location of the microchip or tattoo, its unique code and the date of application or reading. Additionally, the name, species, breed, sex, colour and date of birth stated by the owner, with any notable characteristics of the pet.

Laminated strips will be included in the new passport to cover the details of the pet, such as microchip number and date of birth, together with rabies vaccinations.

A blanket minimum age of 12 weeks will be introduced for rabies vaccinations. Under current rules, the vaccine must be administered according to the marketing authorisation in the country in which it is administered.

New rules will also be introduced for people travelling with more than five pets. They will no longer be able to travel under the Pet Travel Scheme, but must comply with the full trade regime. Pets over the age of six months that are travelling to a show, competition or sporting event are exempt from this, however.

Over the past two years, there has been a rising concern about pet travel among members of the veterinary profession, Trading Standards and the general public.

When the pet travel laws were relaxed in 2012, a blood test was no longer required for pets from EU countries, and the six month quarantine period was shortened to 21 days. It is feared the new rules have had the unintended effected of making it easier for people to travel illegally with pets.

Speaking at a big issue debate at BSAVA Congress this year, Sharon Edwards of the City of London Animal Health and Welfare Services said she has seen a 400 per cent rise in reports about illegal imports within Greater London since 2012.

For full details about the pet passport scheme, click here.