Vets sign open letter calling for badger cull moratorium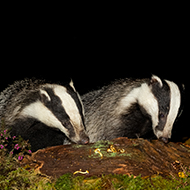 Mark Jones and Iain McGill are among the 33 signatories calling for a review of the policy.

Vets, scientists and academics have signed an open letter calling for a moratorium on any further badger cull licences.

Dr Mark Jones, vet and head of policy at Born Free, Dr Iain McGill, vet and director of the Prion Group, and Alick Simmons, the former UK deputy chief vet, are among the signatories of the letter addressed to Prime Minister Boris Johnson and environment secretary George Eustice.

It reads: 'As we enter the 10th consecutive year of licenced badger culling without any conclusive evidence for its efficacy in controlling disease and unresolved humaneness concerns, we urge you to place an immediate moratorium on any further culling licences, pending a thorough independent and transparent review of the policy'.

The letter comes after a study published in Veterinary Record earlier this year found that culling has had no significant impact on bTB among cattle herds. The finding triggered an argument over the paper's methodology, which the government said was 'scientifically flawed'.
Supporters of the paper, however, say that it demonstrates that the cull should be ceased. In the letter, the signatories warn that new culling licences could lead to the targetting of an additional 25,000 badgers this summer, on top of the 177,000 badgers killed under license since culling began in 2013.

Peter Hambly, executive director of Badger Trust and one of the signatories of the letter, said: "The letter outlines that badger culling is ineffective in reducing bTB in cattle. The most effective solutions are cattle-based – restricting cattle movements, enhanced biosecurity, better cattle testing, and an effective cattle vaccine.

"The Langton, Jones, and McGill report laid out the evidence, and the government has not properly responded. They need to stop the badger cull right now and never cull badgers again."

A spokesperson for Defra said: "We have reviewed the paper published in Vet Record along with APHA scientists and found that the analysis was scientifically flawed, whereas national statistics are showing that our bovine TB eradication strategy is working as we are now seeing sustained reductions in this insidious disease.

"As a result of the progress made, we are now able to move on to the next phase of the long-term eradication strategy, including setting out steps to expand badger vaccination alongside improved cattle testing and a potential cattle vaccine. We have always been clear we don't want to continue the current badger cull longer than absolutely necessary."

The letter has also been signed by UN messenger of peace Jane Goodhall, conservationist Chris Packham CBE, and Green Party MP Caroline Lucas.