Saving Wildcats celebrates two more litters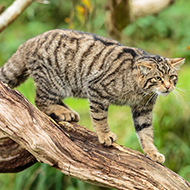 The two rare litters of five kittens are 'incredibly exciting'.
Ten further Scottish wildcat kittens have been born at the Saving Wildcats conservation for release centre in Highland Wildlife Park.

The kittens, born to mums Tulla and Margaret, have brought the total number of kittens born in the conservation project's breeding season to 18 – an incredible number, with litters of five being very rare in the captive breeding population.

Keepers at Saving Wildcats have released pictures of the adorable new arrivals, who could be among the first of their species to be released into the wild in Britain.

More litters are expected over the coming weeks, with conservations having paired up 16 wildcats in an effort to conserve the species.