Battersea to run virtual dog skills classes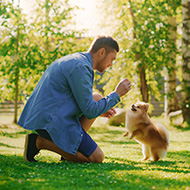 Classes to teach owners new tricks for mental stimulation.
A new virtual training class for dogs has been launched by Battersea Dogs and Cats Home to teach owners skills and techniques to keep their dogs stimulated.

Named 'Skills for All', the sessions will be delivered live and online by the charity's behaviourists to teach dog owners beneficial new tricks for their pet to learn, such as backwards walking, leg weaves and high fives.

The four-week skills course is geared towards dogs aged six months and over, and will be held with no more than six dogs per training session, so each participant will receive plenty of personalised guidance.

"Lockdown showed just how special the bond between pet and owner can be," said Rob Bays, Battersea's canine behaviourist and training manager.

"As we spend more time out of our houses in the summer months, our classes offer owners the chance to spend much-valued quality at-home time with their dogs, strengthening those existing relationships whilst teaching them fun tricks that the whole family can get involved in.

"One of the great things about running these classes virtually is that we're able to teach dogs fun and mentally stimulating tricks within their familiar home environment, free of any potential distractions and with the support of our expert behaviour team."

The next Skills for All sessions will begin on 18 July and 27 July, and three classes will be held on each day. Any interested dog owners can find more information, register interest or book a place on a session on the Battersea website.