Holyrood Dog of the Year crowned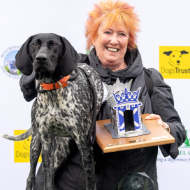 Mabel beat out all her paw-litical opponents.

The Holyrood Dog of the Year competition has crowned a winner for 2022.

Mabel, a one-year-old German shorthaired pointer, entered the event with Christine Grahame, Scottish National Party (SNP) MSP for Midlothian South, Tweeddale and Lauderdale, and won over the judges with her loveable nature.

Bill Lambert, health, welfare and breeder services executive at The Kennel Club, said: "We were delighted to meet Mabel, who was a great example of a dog that has been responsibly sourced through a Kennel Club Assured Breeder, and she wowed us with her friendly and affectionate temperament."

Organised by The Kennel Club and Dogs Trust, the fourth Holyrood Dog of the Year competition took place on Monday (9 May) in the Scottish Parliament Gardens in Edinburgh, and returned for the first time since 2019.

Whilst also celebrating the dogs who live and work alongside Scottish politicians and their teams, the event also puts a spotlight on dog welfare, and endeavours to promote responsible dog ownership.

The event also gives MSPs a chance to discuss important issues surrounding dog welfare with experts in the field to help inform and support their work in Parliament on animal welfare.

Commenting on her win with Mabel, who belongs to her office manager, and on her commitment to canine welfare, Christine Grahame said: "They're all winners because the dogs are all wonderful, but the event is really about highlighting animal welfare and dog welfare.

"I'm bringing a Bill forward in Parliament [Proposed Welfare of Dogs (Scotland) Bill] to make sure people who acquire a puppy, just like Mabel, do their homework first, and from a breeder who makes sure they have the right household and the right lifestyle.

"I want to stop people buying puppies from puppy farms. Mabel is a puppy who had an excellent start to life. She was in a super litter, brought up properly, she was in a happy household. All dogs should have that in their lives."

Owen Sharp, Dogs Trust chief executive, commented: "With the last Holyrood Dog of the Year taking place in 2019, it is wonderful to be back in Edinburgh to celebrate our canine companions.

"Choosing a winner is never easy as there is no doubt all the dogs are winners, but congratulations to Mabel and Christine Grahame MSP who stood out because of their great work in Parliament together."

Second place went to a cockapoo named Tony, owned by Scottish Labour MSP for the Glasgow region Pam Duncan-Glancy, and third place went to Claire Adamson, SNP MSP for Motherwell and Wishaw, and her rescue dog Ollie.

An additional winner was also decided via a public vote, which went to a greyhound named Bluesy, accompanied by Mark Ruskell, Scottish Green Party MSP for Mid Scotland and Fife region.
Image (C) Holyrood Dog of the Year (Dogs Trust, The Kennel Club)