Pig coronavirus study to shed light on the virus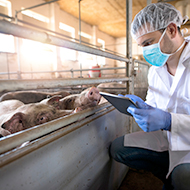 Pirbright scientists created a PRCV model to evaluate causes.

A porcine respiratory coronavirus (PRCV) model has been developed by researchers at the Pirbright Institute to evaluate how coronaviruses cause disease and immune responses.

Pigs were chosen for this investigation as they have similar physiology and immunology to humans, and are a natural host for PRCV. Like humans with COVID-19, pigs have varying symptoms and severity of PRCV.

The scientists hope that this study, published in Frontiers in Immunology, will reveal more about how coronaviruses infect humans, as well as pigs, and that this can help to inform measures to prevent the severity of the virus.

Dr Elma Tchilian, Head of the Mucosal Immunology group at Pirbright, commented on the study: "This research is an important step to understanding coronaviruses in their natural hosts. By exploring disease in pigs, and the mechanisms of infection we will gain insights into pig health which can also be applied to humans with COVID-19.

"This will help to improve our knowledge of COVID-19 and the most effective controls that can be put into place to slow the spread of disease."

Four PRCV strains were investigated, and each of these were shown to induce different degrees of lung pathology.

Significantly, although all four of the strains replicated equally well in the upper respiratory tract and in the nose, as seen with SARS-CoV-2 in humans, the viruses which replicated in the lungs caused more severe disease.

The strains which caused severe disease were also able to multiply in organ cultures, and it is thought that these findings will help researchers to understand how coronaviruses enter cells, replicate, and how some immune cells respond to virus infection.
Image (C) Pirbright Institute